Providing efficient, reliable and quality services throughout Western Canada
Products
Lift Stations, Water and Sewer tanks from 500 to 15,000 Gallon Capacities
LaGrange Mechanical manufactures a variety of lift stations, 500 Gallon above ground sewer and water holding tanks, 1000 Gallon above ground sewer and water holding tanks, 2500 Gallon skid mounted Combo Holding Tanks (2500G Water and 2500G Sewer), 5000 gallon skid mounted water and sewer holding tanks, and 15000 Gallon above ground sewer and water holding tanks.
These tanks are completely heat traced and insulated and are ready for our Alberta winters. Our Highly trained staff can also deliver and install these units on site anywhere in Canada. Our tanks are designed with versatility and convince in mind with many excellent user friendly qualities.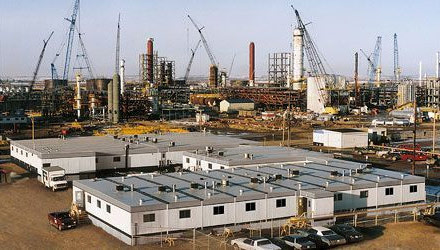 Modular Services
Our knowledgeable service techs and office staff specialize in projects that require compressed timelines and last minute mobilization. LaGrange ensures each technician is fully equipped with the best equipment in our top of the line service trucks that suit any task at hand.
LaGrange has extensive knowledge in dealing with bard units, radiant tube heaters, and trailer furnaces of all makes and models. Our company's capabilities also include yard maintenance and plumbing interconnection on modular lavatories and modular office complexes of any size. We strive to offer the best installation and service whenever wherever.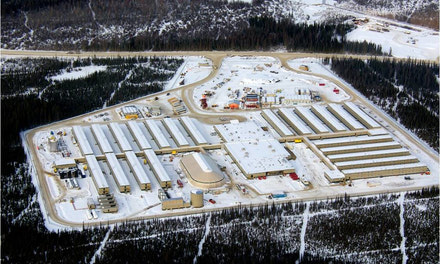 Camp Services
LaGrange Mechanical Services has completed multiple remote camp installation projects, installing and maintaining the sanitary, water and gas lines installations as well as demobilization of camps for relocation. In the most recent years LaGrange Mechanical has been constructing and providing sanitary and potable water holding tanks of all sizes for many remote camps in Northern Alberta. Crews and equipment can be mobilized rapidly in response to emergency situations such as the spring 2013 flood relief camps in Calgary. Our company has specialized in remote camp installation and has all the expertise to complete a professional installation inclusive of all mechanical services. The following mechanical services are available for camp installations:
Above-ground water, gas & sewer services
Lift stations
Propane & Natural gas distribution system
Potable water distribution
Wash car service
Drain cleaning
Refrigeration repair & installation

Furnace repair & service
Air conditioning repair & installation
Make-up air repair & installation
Appliance repair & replacement
Kitchen equipment repair
Auger & camera service
Underground water, gas & sewer services
LaGrange Mechanical ensures all of our employees are outfitted in service trucks that far suit the task at hand and will always have the best material and equipment to work with. Our highly experienced project managers pride themselves on the quality of work we can provide and will continuously work towards managing safe and efficient projects.
About LaGrange Mechanical
LaGrange Mechanical has been in business since 2005 installing and servicing all plumbing needs for:
Mobile Offices
Office Trailers
Section Modulars
Sales Offices / Executive Line
Storage / Office Combinations
Construction Trailers
Large Mechanical Camp installations
We are involved in the industrial and commercial field side of the industry as well as manufacturing Potable Water and Sewage Holding Units in multiple sizes.
Mission Statement
At LaGrange Mechanical we are dedicated to provide efficient, reliable and quality services to meet all our customers requests, while maintaining a safe work environment and top quality product.
Our Story
LaGrange Mechanical is a company which prides itself on treating both clients and employees like family. Starting in 2005, it grew from having 3 employees to having 60 full time employees including Plumbers, Gas Fitters, Electricians and HVAC Technicians. The crew is out in top of the line service trucks that can handle any service call, anywhere. We have extensive knowledge when dealing with bard units, wall mounted furnaces and radiant tube heaters. Our goal; to always do our best and be available to our clients.
* Now a very proud member of the Canadian Council for Aboriginal Business (CCAB)*